INTERVIEW

Get To Know - Amine Houari
Written By
PHS
An architecture student, Amine Houari cultivates a deep passion for photography from an early age. Born in 2000, in Fez, it is in Morocco that Amine Houari draws his inspiration and feeds his imagination. Attracted by questions of territoriality, he likes to explore, in turn, the identity of the place of the person, but also the intriguing relationship that Man weaves with his surroundings and his environment.
I was intrigued by the richness of these constructions revealing particular creativity
PHS: What has drawn you to photography?
A: Born and raised in the city of Fez, a city known for being a hotbed for culture and spirituality. My passion for architecture and photography debuted at a young age in the narrow streets of this ancient city. Attracted by colours, landscapes, streets, scenes, and the contrasts surrounding us, I've always wanted to contemplate the bottom of things and to discover their secrets. Through the medium of architecture and photography, I'm able to express myself in ways that go beyond my ability to express myself in words.
PHS: Who and what has influenced your work?
A: Growing up in a country like Morocco you are always confronted with a very rich and singular environment, and one cannot deny that this impacts my work in some way or another. Especially a city like Fez, which has long been photographed by the best photographers of modern history, including Bruno Barbey. My family also played an important role in this process. Watching the photographic work of my sister and my cousin from a very young age allowed me to develop a photographic eye on everything around me. After studying architecture, this gaze continued to be nourished with a more detailed and pragmatic vision - paying attention to questions of territoriality, the identity of places and people. Not to mention the intriguing relationship that humans build with their surroundings and environments. One day after discovering Bass Princen's work, I was amazed by how he combined architecture and photography and was able to make pertinent reflections on the places he was photographing.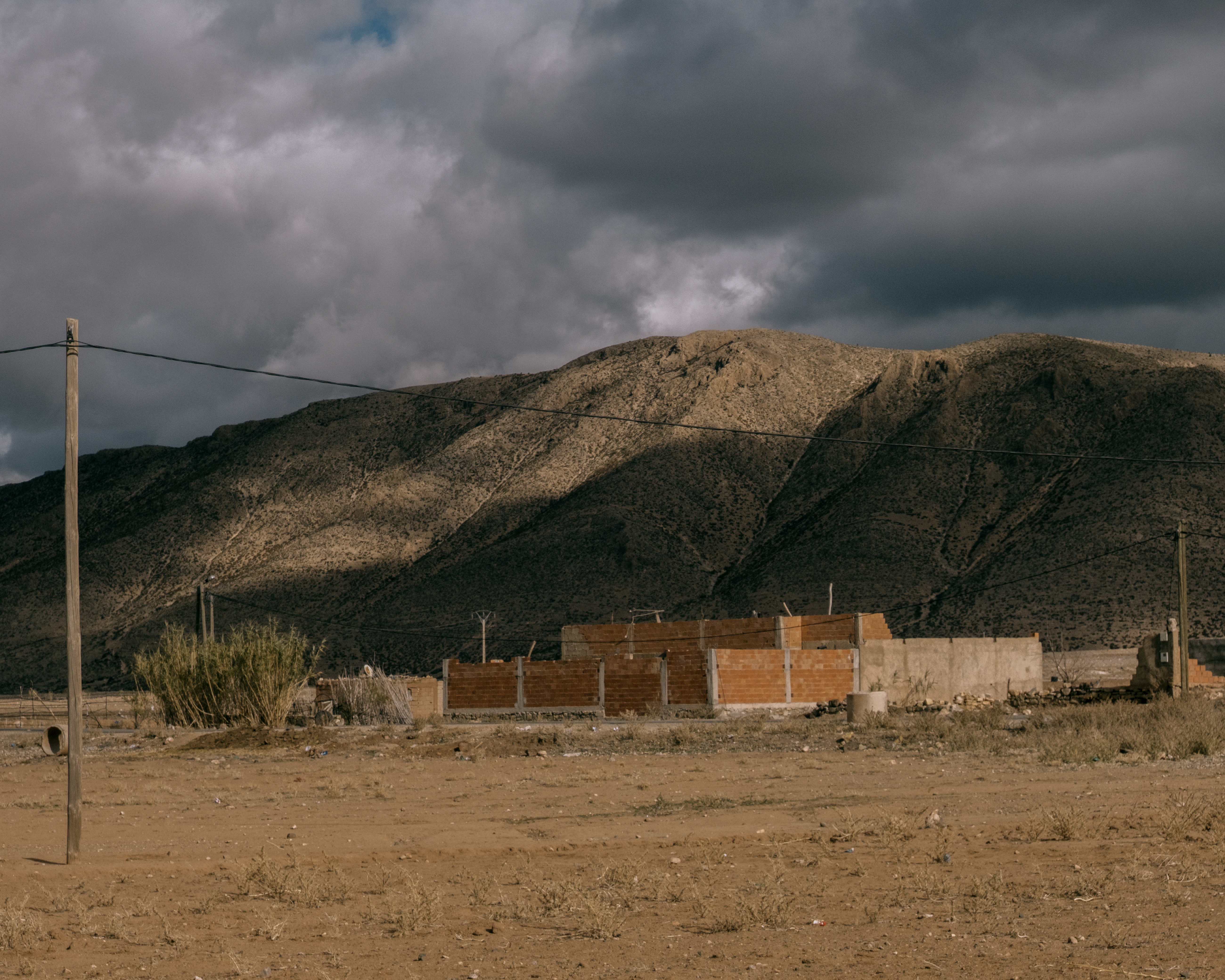 PHS: Your series "Territory" and its concept seems very poetic and philosophical. How did you come towards this approach of discussing the topic of environment and architecture?
A: During my travels in Morocco and passing by the different villages at the edge of the cities, I was intrigued by the richness of these constructions made without the need for architects but still reveal particular creativity. This kind of construction is always despised and criticized and said to be anarchic, but it is beginning to shape the Moroccan landscape and requires a close study.
PHS: How did you come to this specific project of documenting architecture and landscapes in these unexplored areas in Morocco?
A: After spending time in these areas I began to develop this reflection on this unexplored landscape. I was very interested in how people could shape and personalize their places of living, responding to constraints and needs in a very poetic and thoughtful way, while rooting themselves in their context. It was after these observations that many questions arose, scenes of allegories open to lyrical interpretations, coming from a particular sensitivity to this territory. What does a window want to be? What window does the door want to become? How does the brick become a monolith?
Isn't the rural in essence the first poetic form of sedentarization? Isn't the landscape, nature made abstract? It is only by this way of abstraction and poetization that this architecture claims to be a living being. Through this series, I try to discover and explore this close relationship that the individual evokes with this territory, materialized through a spontaneous architecture.
PHS: What are the main topics you discuss in your photographs?
A: Lately, I am very attracted to subjects related to territoriality. I like to explore, in turn, the identity of the place and the person, how these surroundings make us the person that we end up becoming. These intriguing relationships, that humans weave with their surroundings and their environments help us to become aware of their person, their past and their future.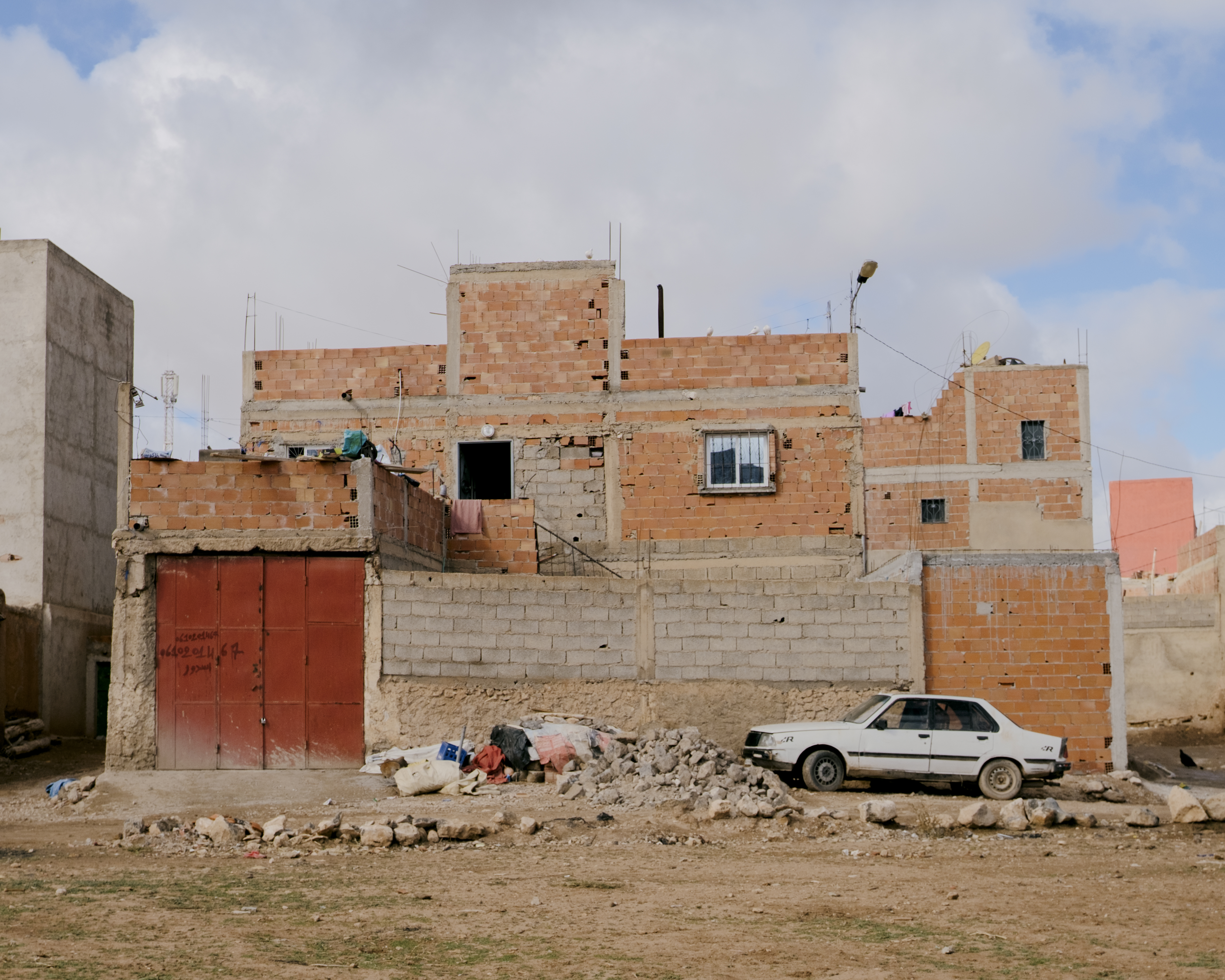 PHS: How do you approach a new project? What are the most important aspects?
A: Generally, I don't follow a defined and generic approach from the beginning, once the issue and the subject interest me. I do my best to immerse myself in the project through discussions with locals, documentaries, and films. Everything that can help to feed and expand my thinking.
PHS: What emotions or messages do you want to share with your audience?
A: What I always want with my work is to be able to create a dialogue between the work and the viewer. To create a visual experience, to intrigue and focus on subjects, issues or visions that are personal to me.
PHS: What are your hopes for your future career in photography?
A: I hope to remain as consistent as possible, that my work has an impact on people and the issues I deal with while contributing to the discovery of the continent and my country through the photographic journey I offer.
PHS: What do you think is needed for the African Photography Industry to thrive?
A: More cohesion between the African creative community, celebrating the continent and its identity far from the clichés and distorted and superficial orientalist views.
PHS: What are you currently working on?
A: Currently, I am focused on my project "Territory". I am exploring the fields of possibilities of this series, alongside a series of collective exhibitions called Nadra with my photography collective Noorseen that regroups 14 photographers from all around Morocco.
CREDITS
PHS and Amine Houari
ABOUT THE WRITER
Want to become a writer for PHS or submit work for us to publish ? Send us an E-Mail to contributions@photohousesouth.com
We are always looking for texts about photography, art, current news and more.